"Habit is stronger than reason."– George Santayana
Each year I love to follow the grueling Tour de France (TDF) cycling race. Besides watching what, in my mind, is the toughest sport with the fittest athletes in the most trying conditions, the race also serves as travelogue for a very beautiful and diverse country.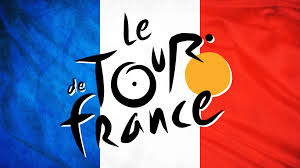 As I watch this year I couldn't help but notice the parallel process between the endurance race and the enduring road of recovery.
Some of the many parallel thoughts I observe:
---
Surround yourself with a strong team.
While there can only be one winner of the race, the winner does not win the race alone! To the outside observer it looks like it could be a single rider competing for that yellow jersey. Each TDF team is composed of 10 members that support one another and compete with an overall goal and strategy. Recovery is not a solo event. Similarly you are riding for yourself, but those with strong recovery ride with a strong team of peer support surrounding them. Riding in the peleton can be stressful. When one has a strong team of support surrounding them, anxiety is reduced and safety is increased.
---
Follow a program and practice daily.
Being the 21-day approximately 3000-mile race that it is, one just doesn't go out and ride it. Cyclists are riding exhausting 8-hour days. One gains strength to complete the event with consistent effort over time. Repeated habits build skill that become autonomic responses with strong endurance. There are many skills to master with varied terrain. Life is long, varied, and arduous. A life of recovery is gained by replacing the bad habits of addiction with new habits of recovery learned in a program or 12-step fellowship. Consistent practice creates seamless habits that allow success. Successful cyclists and successful people in recovery know the drill, study the terrain, and use the skills they spend time cultivating in the heightened pace of the (rat) race. Rest days are important. Cyclists get a rest day from the heavy fast pace once per week over the 21 days of racing. That, however, does not mean they do not cycle to stay loose. On rest days TDF racers spend 1-2 hours per rest day on the bike! Similarly, successful recovery includes doing something for recovery every day. In recovery one needs respite from stress, but we practice recovery every day.
---
If you fall, it is important to get up and continue the ride.
Cycling is a dangerous sport. There are many trials and tribulations along the route. This year many of the top contenders had very bad wrecks in the early days of the race.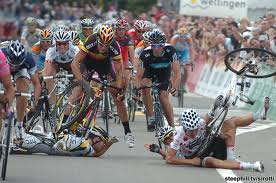 If one hasn't broken a bone, one can continue to ride. Many get up battered, bruised and bandaged, but then continue on towards their goal. Paulo Coehlo noted in his book The Alchemist: It does not matter if you fall, but what truly matters if you fall down 7 times, be sure to get up 8! Successful recovery will have moments of falter. Get back up, dust yourself off, and get back to the basic drills that you learned that keep you safe. Know, observe, and accept your limits, but don't stop training.
---
Enjoy the ride
As in difficult rides and a lifetime of recovery, don't forget to stay present and enjoy the journey. No matter how hard it is, look around. Breathe deep. Stay focused. Enjoy the scenery. Life is a matter of perspective. Have gratitude for the opportunity to be on the ride.