My running partner and I have vacationed on opposing weeks through the last half of summer. I have missed her. I have kept my running plan and structure, but running alone is not the same. I love the time to think and I have continued to run. I work hard but, as the weeks have continued on, I find myself on the slippery slope of not staying the course.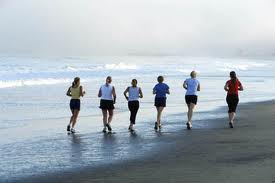 Sometimes it is hard to get out of bed in the dark to prepare for long Saturday runs. If there is no one to be accountable to, will it hurt if I run just a little later in the morning? Not really. Then as the weeks have passed I have been tempted with a little later start time. What if I just sleep in? Who would know? Does it really matter? I would know when I look in the mirror and see the integrity on my face in the mirror, or not.
With risk of a waning running plan, I decided to hook up with another group that runs a little earlier and a little faster than my normal pace. I had some anxiety to commit to this group. What if I can't keep the pace? Do I really want to go earlier? I wanted the help to step up my program. I wanted the accountability. I made the commitment and I asked for the help I needed to get back with the program.
Recovery can be a little like that. Recovery is hard work. Sometime "one day at a time" gets arduous. Sometimes our program slips. Are you aware when you get on the slippery slopes towards your program falling apart? Are you aware of what you need to get back to the basics? What is needed to step up your plan? Do you have people identified that can help you get back on track? Do you ask for help from program peers?
I had fear connecting with this new run group that plans differently and paces differently than I do. I found courage to ask for what I needed to join them and then assert my needs on the actual runs. I found renewed energy in my running and actually was in better shape than I envisioned myself to be. Even though the pace was quicker, the energy of the group renewed my energy to keep the pace.
Consistent effort pays off over time. Is your program in top running shape? Who can help you with your labor?